ABOUT GLOBETROTTER KIDS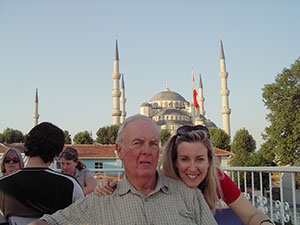 Leslie Cox and dad, Al Cox, in Istanbul, Turkey
Leslie Cox, founder of Globetrotter Kids, began teaching this program almost ten years ago as an after-school class at a local Austin, Texas elementary school. She wanted to teach her young son and his friends about other countries and cultures and instill in them a love for travel and adventure. Since then, the program has grown in Austin to include after-school programs at other schools, summer camps, homeschool programs, and field trips to local museums and other cultural institutions.
Leslie, who has a BA in History and MA in Art History, worked in museums for many years, both in Chicago and Austin. She also runs, with her family, a non-profit foundation, the James Alan Cox Foundation for Student Photojournalists, in memory of her beloved brother, Jimmy.

LESLIE'S RECENT TRAVELS
"I just went to Galicia in northwest Spain with my mom, aunt and some friends to walk the Camino de Santiago. It was an incredible experience – we walked about 70 miles over a week. It was challenging, tough … but also moving AND very fun."
LESLIE'S FAVORITE COUNTRY
"I love EVERY country I visit. They are all so unique and different – and there is always so much to learn (language, food, history, art, etc.!) But two of my favorite countries are Turkey and Guatemala. I've been to the latter, in fact, numerous times and even lived there one summer. It was also wonderful to take my husband and son there a few years ago for their first visit."
LESLIE'S FAVORITE GLOBETROTTER KIDS EXPERIENCE
"Last fall, I taught a class on Nepal. A few months after teaching it, terrible earthquakes struck that country. My students and I decided to do a fundraiser to help the people, and especially the children, of Nepal and made bookmarks to sell to family and friends. I thought it would be a nice, small fundraiser – but my students ended up making and selling hundreds of bookmarks and one child even set up a booth at a local fair to sell more! We ended up sending close to $600 to Save the Children!"
"Travel is fatal to prejudice, bigotry, and narrow-mindedness, and many of our people need it sorely on these accounts. Broad, wholesome, charitable views of men and things cannot be acquired by vegetating in one little corner of the earth all one's lifetime." – Mark Twain